> News and Events > Archives
---
November 22, 2006
ProRules announces the availability of ProBPM Modeler. Using ProRules ProBPM Modeler for Microsoft Office Visio™, critical business processes are designed and deployed to enable organizations to manage and control critical processes.
ProBPM Modeler for Microsoft Office Visio™ is used to model and incorporate business rules that manage critical business process flow. Process Content can be stored using Microsoft SharePoint Services™ to further support the process.
Applications suitable for ProBPM include: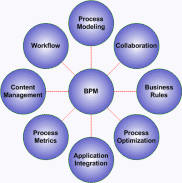 Insurance Claims
Correspondence Management
Customer Service
Insurance Underwriting
Unemployment Benefits Insurance
Credit Card Processing
Financial Services
Customer Resource Management
Accounts Payable
Human Resources
Corporate Records

proBPM works with Office 2003 and Office 2007, Microsoft SQL Server 2003 and Microsoft SharePoint Services 3.0.
---
November 20, 2006
ProRules announces a marketing and services partnership with Corticon Technologies, Inc, a leading Business Rules software company with headquarters in California and offices across the United States. Corticon® Technologies helps organizations make better, faster decisions by managing the rules that drive their business. Corticon Business Rules Management delivers a next generation business rules modeler and business rules engine. Corticon's products are in use today at many of the world's largest banks, insurance carriers, media companies, telecom providers and government organizations, collectively automating millions of decisions per day.
ProRules will provide Business Rules Services together with Corticon Business Rules Management Software to enable business to fully integrate business processes with rules and to manage the entire process.
ProRules is based in Louisville, Kentucky, with customers across the United States. ProRules provides Professional Services for Business Process Management systems. BPM technologies and Business Rules software help you to organize, manage, control, and measure the effectiveness of your business processes.
---
May 15 - 18, 2006

Pennsylvania Convention Center
Philadelphia, PA

ProRules will attend the 2006 AIIM Conference and Exposition in Philadelphia, PA. AIIM is the largest conference and expo focused on enterprise content management. This annual event attracts business professionals seeking the latest technologies to develop, capture, manage, and store documents and digital content to support business processes, comply with governmental regulations, drive down costs, and gain a competitive advantage.
---
November 3, 2004
2nd Annual Metro Louisville ISSA/WIT Conference
Hilton Garden Inn
Louisville, Kentucky
ProRules will present the topic Safe Hex - Securing Enterprise Document Content. Learn the latest techniques for securing your enterprise electronic document content and complying with privacy and government regulations.
Event hosted by the Kentuckiana Information Systems Security Association and Louisville Women in Technology
---